TAKE OWNERSHIP OF REGINA TROIS EPIS
AND BECOME MASTER OF PLACE DURING YOUR STAY
Situated at an altitude of 650 m and dominating the plain of Alsace, THE GREAT GÎTE REGINA TROIS ÉPIS is situated in the middle of nature in the health resort of the Trois Épis, 19 minutes from Colmar.
The exceptional value of this unique mansion will be highly appreciated by coaches, sports groups and associations as well as by organizers of training courses, staff training and family or private events.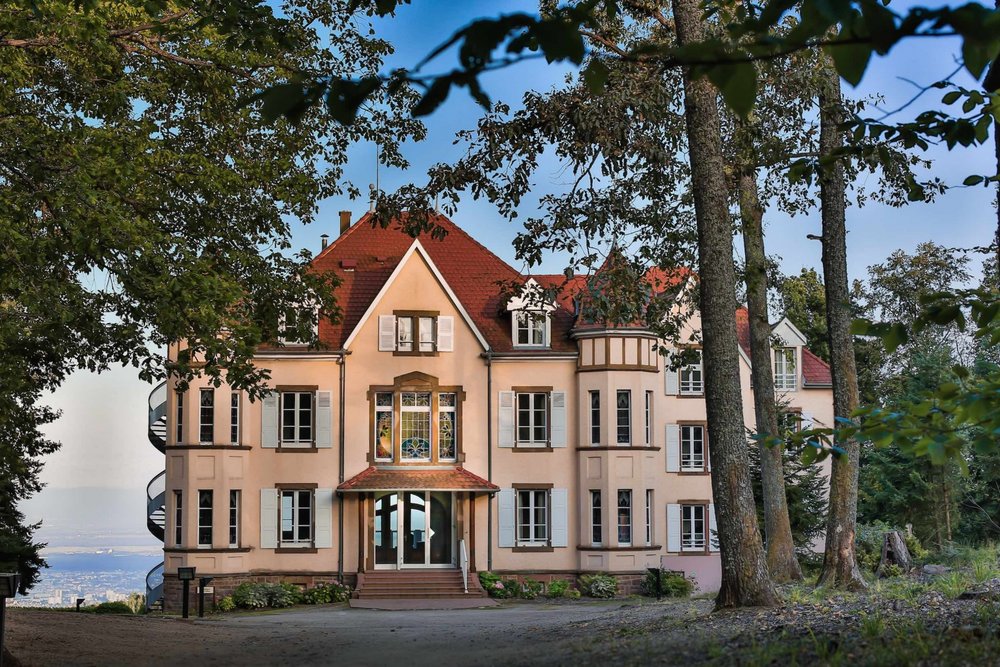 MUCH MORE THAN A SIMPLE DESTINATION
A genuine haven of peace overlooking Colmar, REGINA TROIS ÉPIS can be completely transformed into your privatemansion. Dare to experience an exceptional stay within the intimacy of your group !
The large Villa REGINA TROIS EPIS


a place for your event
STAFF TRAINING
Development & Training
If you are a trainer, an organizer etc., REGINA TROIS ÉPIS is meantjust for you! You will appreciate the opportunity to have exclusive use of this place for groups of 10 people or more to organize your yoga, meditation, art, music, therapy, taï chi chuanand other sessions.
The exclusivity, the absolute tranquillity and the exceptional panoramafrom this house willprovide your trainees with an incomparable experience.
COCKTAIL PARTIES AND OTHER EVENTS
Accommodation & Conviviality
REGINA TROIS ÉPIS is the perfect place for organising private events and family celebrations. The large reception area, the exceptional panoramic view and the wooded park area will invigorate and delight your guests.
For your receptions, you can seat 50 guests and accommodate up to 150 people for your cocktail parties.
ACTIVITIES FOR ASSOCIATIONS AND GROUPS
Sport & Nature
REGINA TROIS ÉPIS welcomes sports groups and associations of up to 33 persons for stays of at least three nights.
Ideally situated between the sky and vineyards, the TROIS ÉPIS health resort offers numerous hiking and mountain biking trails and an array of tremendous routes for motorcycle and cyclingenthusiasts.
THE BIG GUESTHOUSE REGINA TROIS EPIS


rooms for your events
OUR ROOMS & LOUNGES
Spacious & Bright
REGINA TROIS ÉPIS features a lounge extended by an outside terrace providing for a striking view of the plain of Alsace, a 40m² library lounge with a big-screen TV and a flexible 70m² room with largebay windows furnishing an exceptional panoramic view.
OUR KITCHEN
Flavour & Authenticity
REGINA TROIS ÉPIS provides seasonal menus using fresh vegetables and fruits. Guests relish meals in which sharing and conviviality rhyme harmoniously with flavour and authenticity. Both day and night the dining room offers an exceptional view of the plain of Alsace as far as the Black Forest.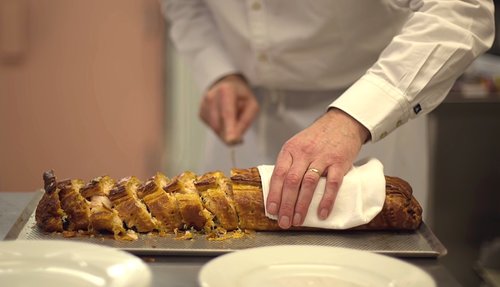 OUR ROOMS
Minimalism & Serenity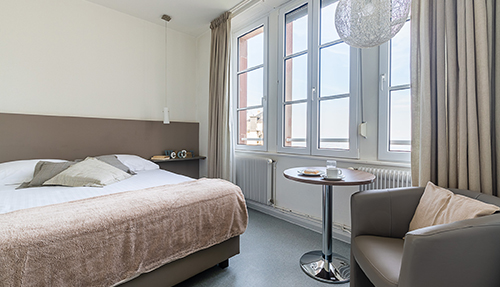 REGINA TROIS ÉPIS offers 14 double rooms and 5 single rooms with individual bathrooms. You will appreciate the relaxing and minimalist atmosphere with the view of the plain of Alsace serving as a picture. Non-smoking rooms, WiFi access, elevator. No pets.
Group accommodation REGINA TROIS EPIS


with pictures
Experience an exceptional stay in this extraordinary place !
Large holiday house REGINA TROIS EPIS


discover the surrounding area
ALL OF THE MAGIC OF THIS REGION
REGINA TROIS EPIS is situated in the heart of Alsace and ideally located to permit you to easily access the numerous destinations in the vicinity of Colmar, Strasbourg and Mulhouse as well as the traditional Alsacian villages, the wine route, the Christmas markets …